FSTEC Innovation Forum Recap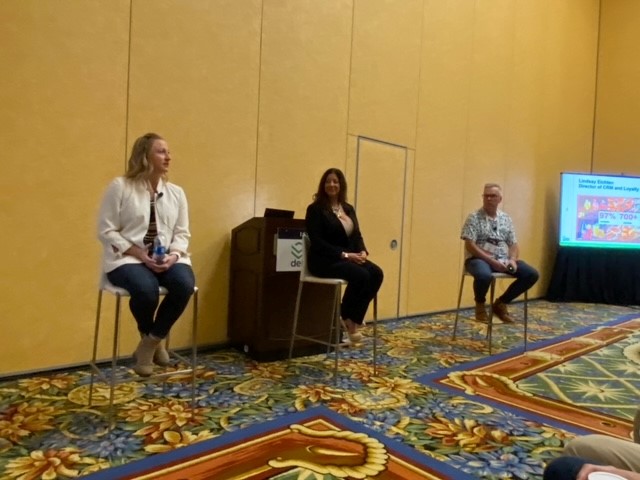 September 27, 2022
Last week at FSTEC, the conference where restaurants and technology connect, DataDelivers invited three industry veterans to share how to successfully use data to improve the guest experience. For the panel, DataDelivers' Pat Riley was joined by Lindsay Eichten, director of CRM and Loyalty at Fridays, Deena McKinley, Chief Experience Officer at New England Authentic Eats, the parent company of Papa Gino's Pizzeria and D'Angelo Grilled Sandwiches and Brian Yahn, Vice President of Information Technology at Eegee's.
With over 100 attendees, the conversation kicked off with a resounding agreement that getting started is the most important step. All too often data is siloed within the company's infrastructure and gathering it in one place is critical to leveraging the data to address the most important questions facing your business.
McKinley pointed out that combining data silos into once centralized location allowed her company to segment information by customer level of heavy or infrequent users, by daypart, and more. This segmentation gave a new level of insight on the customer and how and when operations is delivering on the expectations of those customers.
Riley noted that paralysis can happen when brands are looking for the perfect solution or magic bullet. Yahn agreed and added that for his brand starting with broad questions about the challenges their business needs to address gave them a roadmap to find the right answers in their data.
Eichten stated that data and technology exists for all brands. The task is to figure out what the main problem is such as labor, inflation, generational dining changes, etc., and then go after it.
And growing that data pool is also important for optimizing your customer's long-term potential. Eichten noted their general managers adamantly believe they know all their regulars and the data shows that there can be 150,000 regulars in one restaurant over a 12-month period. It's not possible to know them all. Though by working to ensure those customers are signed up for their loyalty program, their DataDelivers CDP can cross reference them and glean vital information about patterns, habits, and sales.
The panel agreed it is important to support data points with qualitative information to provide context and better under relationship marketing efforts and listen to what the customer is saying.
McKinley pointed out that that everyone needs to remember the restaurant business is still about the people no matter what side of the table they are on. Understanding the data helps operators create a positive environment for both customers and staff; a key part of improving the guest experience.