Driving Traffic in Challenging Times: Insights from FSTEC 2023 Panel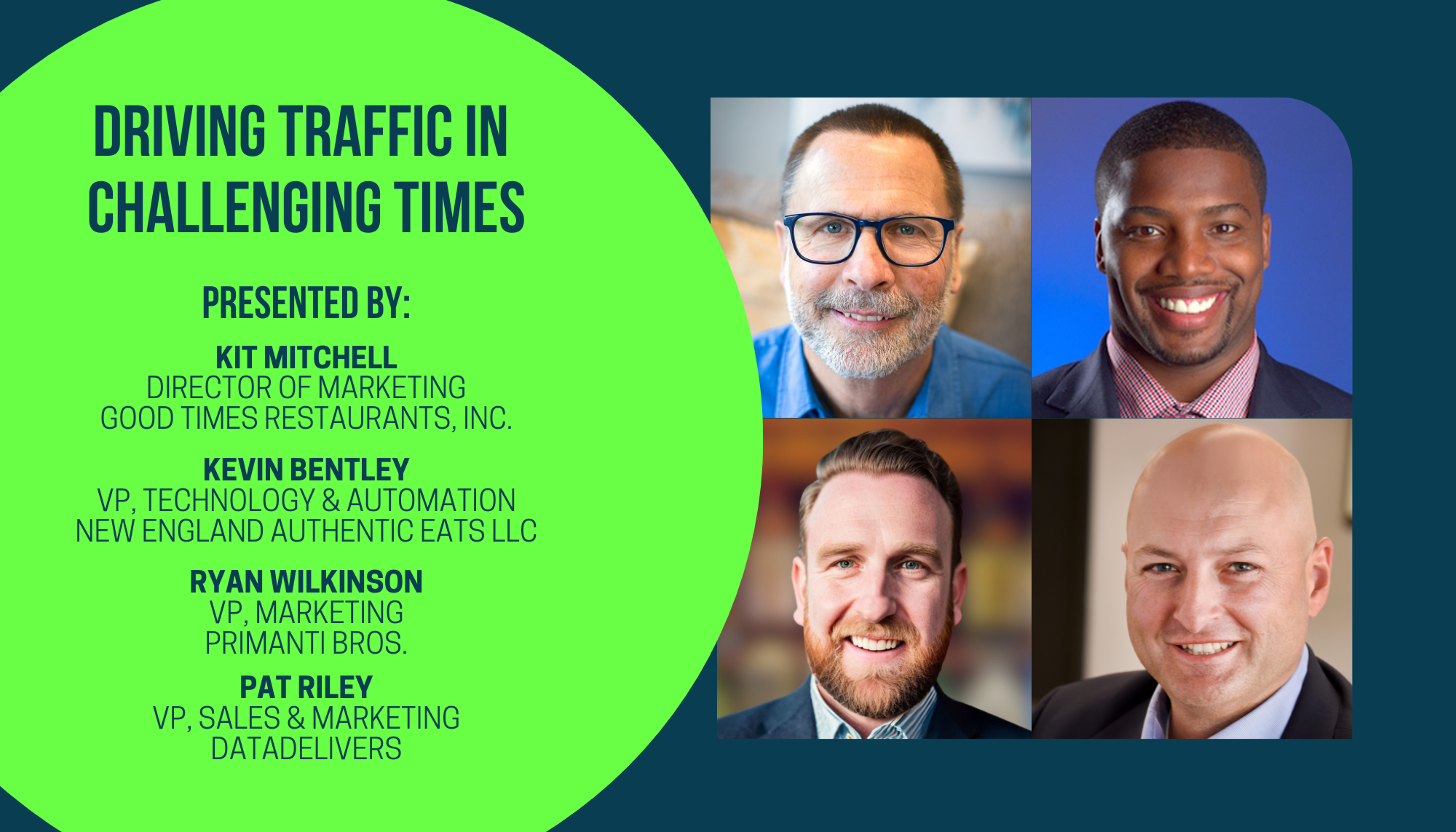 September 22, 2023
Digital technology and marketing analytics play a pivotal role in shaping the future of restaurants. At last week's Foodservice Technology Conference (FSTEC), leaders from top brands shared how they are leveraging customer data, CDPs, and other marketing technologies to drive traffic in a challenging economic climate.
Joining DataDelivers' Vice President of Sales and Marketing Pat Riley was Ryan Wilkinson, Vice President of Marketing at Primanti Bros, Kit Mitchell, Director of Marketing at Good Times Restaurants, the parent company of Good Times and Bad Daddy's Burger Bar, and Kevin Bentley, Vice President of Information Technology and Automation at Papa Gino's Pizzeria & D'Angelo Sub Sandwiches
Highlighting the post-COVID bounce is over and the return to a more competitive landscape, there's a need to "fight for every point in sales increases," said Ryan Wilkinson.
The panel agreed the differentiator in this fight today is marketing technology analytics that provide opportunities for a greater understanding of customer identification and behavior and enhanced digital initiatives.
"We have a good idea what's happening with our loyalty members. But we don't have good visibility for other existing and/or new guests," said Kevin Bentley.
"So, it is important to us to determine who are the customers we don't readily know. They visit often but are not part of our loyalty program. These 'anonymous' customers bring us considerable value and we are addressing them now."
Industry norms suggest that most loyalty programs top out at 10-20% of customers "What do we do to address the other 80% of our customers? There's a whole world out there beyond loyalty. With DataDelivers' help, many of Primanti Bros. non-loyalty customers are participating in what is essentially a passive loyalty-like program. And it's driving incremental traffic."
Kit Mitchell talked about his ability to expand their customer database and use data to win back lapsed and inactive customers. "We recently employed targeted display ad campaigns to known guests with positive results, and we plan to increase this effort in the future," he said.
Leveraging the MarTech (Marketing Technology) Stack
For both Papa Gino's and D'Angelo's, Kevin Bentley highlighted how the brand is using geofencing to create a sense of urgency for guests and both brands deploy this digital initiative around key dayparts and times that add convenience and ease to their guest's lifestyle.
"An important part of this strategy is to streamline the customer journey to encourage conversions. We make it easy for guests and we get rewarded with more orders," Bentley added.
The panel shed light on the evolving landscape of the restaurant industry, emphasizing the critical role played by digital technology and marketing analytics. As the competition for increased market share has never been fiercer, the key to success lies in harnessing the power of customer data and technology. In the current economic climate, it is clear that those who embrace these technological advancements will thrive both now and into the future.
Headquartered in Schaumburg, Ill.,, in 2021 DataDelivers has helped restaurant clients identify more than 15 million new guests, generate more than 2 million incremental visits and produce more than $40 million in incremental sales.